Aikido was created by Morihei Ueshiba (1883–1969, 植芝盛平), who is referred to in the aikido community as O-Sensei 'respected teacher'.
Ueshiba was born in Tanabe (south of Osaka) in 1883. During his youth, he trained in several martial arts there and in Tokyo, before moving to Hokkaido (Japan's northernmost island) in 1910 as part of a new settlement at Shirataki. There, in 1915, he met and trained under Sokaku Takeda (1859–1943), a travelling teacher of Daito-ryu aiki-jujutsu, with whom he maintained an association until the late 1930s.
In 1920, after the death of his father, Ueshiba returned to Tanabe. At that time he met Onisaburo Deguchi, the leader of the Omoto-kyo religion, who would strongly influence his spiritual philosophy. Ueshiba joined the Omoto group at Ayabe, where he opened a martial arts school. His reputation as a martial arts instructor grew, and after giving demonstrations for the military and the imperial family in Tokyo, he moved there in 1927 to teach at several military schools. He opened his own Kobukan Dojo in 1931 in Wakamatsu-cho (the present aikido headquarters or Hombu Dojo, rebuilt in 1968).
After the outbreak of World War II, Ueshiba retired to the small village of Iwama (Ibaraki prefecture) to devote himself to farming, training and meditation. By now he had broken completely with Takeda, and the new name 'aikido' was officially registered in 1942. Ueshiba afterwards said it was during his time in Iwama that he perfected his art.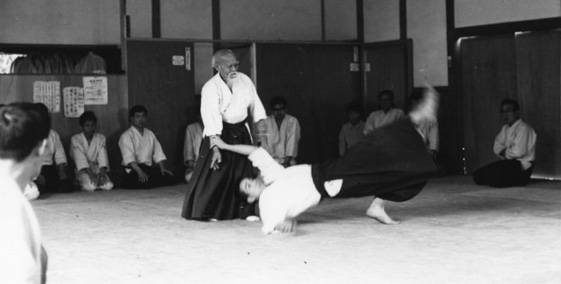 Martial arts were banned in Japan during the post-war years, but from the mid-1950s Ueshiba began to demonstrate aikido publicly for the first time.
Under the stewardship of Ueshiba's son Kisshomaru, a network of branch dojos was established throughout Japan during the 1960s, and instructors were sent abroad to establish aikido internationally. In 1961 Ueshiba himself travelled to Honolulu to open a new dojo there.
O-Sensei died in Tokyo on 26 April 1969.
More info:
Chronology of O-Sensei, by Stanley Pranin. (Stanley Pranin, who died in 2017, was editor of the Aikido Journal and had done extensive research into the history of aikido. His Aikido Journal Encyclopedia is sadly no longer online.)
Biography on the Tanabe tourism website.
There are now lots of video clips of O-Sensei on YouTube.